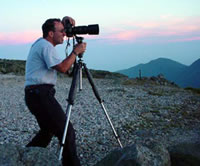 I grew up in the Mount Washington Valley and I have been photographing New Hampshire Scenics since 1975.
I enjoy photographing Mother Nature in her many moods. Some of the best light for photography is right after a storm along with the early morning and late afternoon light. My most favorite time of the year to photograph is winter. I love being out in the cold during the early morning hours when I am alone with the sounds of winter.
My inspiration comes from the people that view my work. I enjoy showing them scenes of Mother Nature that they aren't able to see.
I will once a year try to travel to the far out reaches of the world. Whether it's the Himalayan Mountains in Nepal or Antarctica. Seeing new regions of the world inspires my creative eye I need this after seeing the same area for a while. The change is great and when I return to the Valley I see it in a new light.
I get uplifted after a special day. Those rare winter mornings when the trees are coated with snow and the light is magical, or after shooting a sunset in the Himalayas. The one you have dreamed about and have spent four weeks climbing to capture and fortunately the light on the mountains that evening is very special. However as we all know there are many disappointing days as well. Everyday isn't special, but they make the special days even more magical.
I have had many memorable photographic expeditions out side of the United States. Some of my World Travels have taken me to Mt. Everest, Antarctica, Patagonia, New Zealand and Europe.
If you are interested in viewing more of my work, I would be glad to set up an appointment for a visit at my home studio. My work can also be viewed at the Handcrafters Barn in North Conway and Flossie's General Store in Jackson, NH.